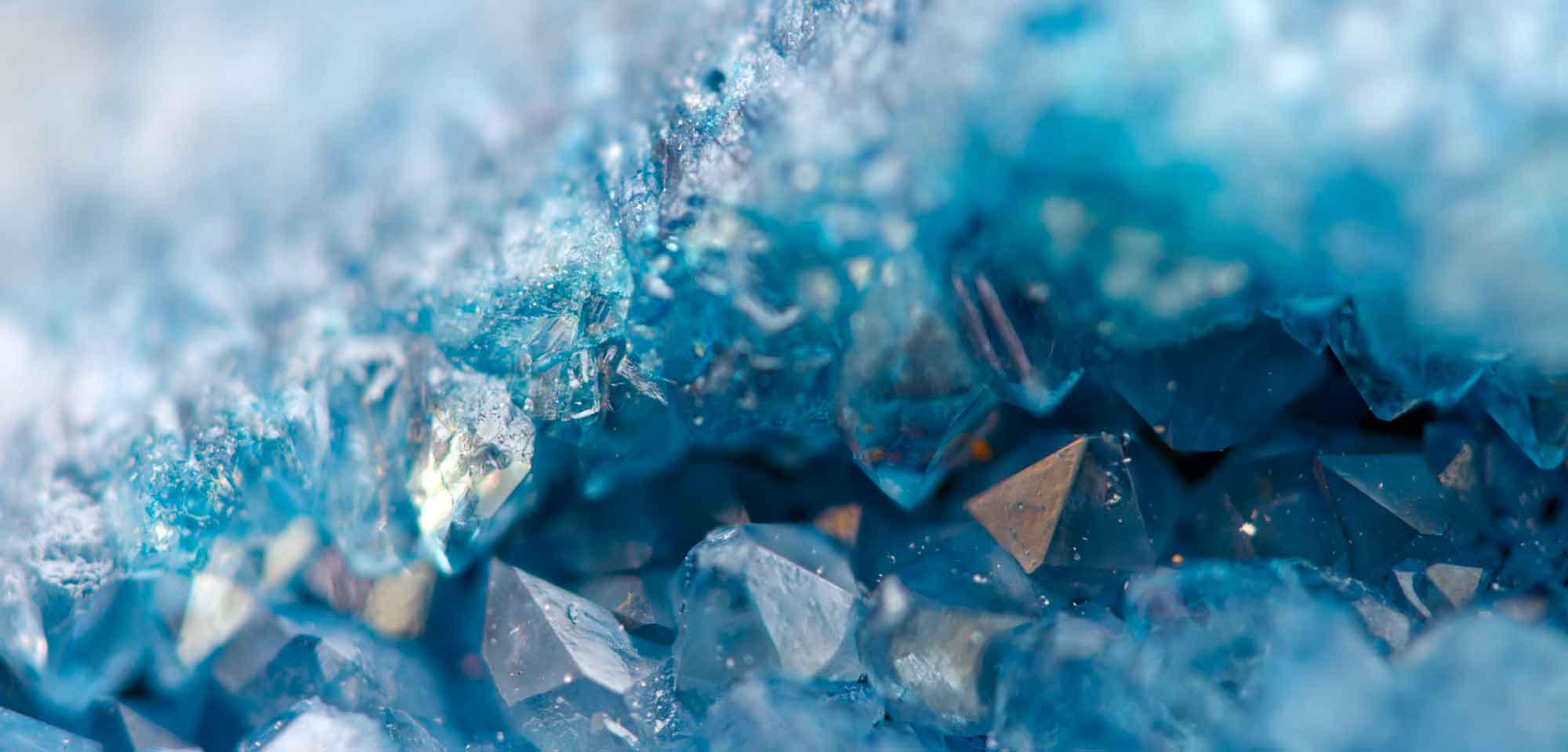 BIRTHSTONES
December Birthstone: Topaz
Topazes come in various colours, but the most famous and highly prized is blue topaz. It comes in a wide variety of shades, always translucent and clear, oscillating from the palest hue, similar to the clarity of a glacier, to brighter hues, like the waters of a tropical sea. These bright and refreshing colours make topaz the perfect December stone, a stone that perfectly represents the heart of winter and its imagination, with its snowy and pure landscapes. Inspiring and calming, it is particularly suitable for those who engage in artistic or intellectual pursuits.
Month : December

Symbols :Loyalty, Joy

Traditions : Topaz fosters courage whilst warding off curses.

In brief : December's birthstone, topaz, comes in various colours: blue, pink, yellow, green, red, purple but also colourless. It is known for its throat virtues and it also helps the wearer to communicate.
December Birthstone Description: Topaz
From the silicate family, blue topaz makes the perfect gift for yourself or others, whatever the occasion. For a birth, a birthday or as a simple gift, blue topaz will never disappoint as it has known great success for generations. It captures light and reflects it with such brilliance that it appears as if it is emitting it. As it can be cut in various shapes and sizes, blue topaz is suitable for all jewellery types and tastes.

They can be mined in Brazil or the United States, two countries known for their soil rich in topazes. In addition, they can also be found in Russia and Nigeria. Blue topaz shares several similarities with tanzanite, though by observing them carefully their differences are clear due to their colour, hue and reflection variations. Both of these stones, due to their beauty and brilliance, were attributed as December birthstones.
---
Zodiac Signs Associated With Topaz
December's birthstone, blue topaz is compatible with the Sagittarius and Gemini zodiac signs. Its virtues are numerous. Its clarity and transparency provide inspiration, but it also calms and regulates emotions for greater serenity and stability. Though it matches perfectly with these zodiac signs, all those who are receptive to litho therapy will be able to enjoy this stone's benefits by wearing it.

Blue topaz, in Chinese astrology, corresponds to the Horse sign. Through it, it offers its vigour at work and strengthens one's honesty. This stone also offers the power of commitment. There are many jewels adorned with blue topaz, allowing everyone to wear the perfect jewel and enjoy its beauty and benefits.
Chakras Associated With Topaz
Three chakras offer numerous virtues to Topaz, December's birthstone, lui conférant de nombreuses vertus. Blue topaz has similar virtues to that of aquamarine. Associated with the throat chakra, it strengthens the voice and alleviates ear-related problems. It also soothes sore throats.

Combined with the heart chakra, yellow imperial topaz allows one to relax. As such, it prevents sleep disorders, restoring restful sleep. It invigorates the brain and gives the body vitality.

For the solar plexus chakra, it strengthens the glands and purifies the liver. It helps to strengthen the spine and repairs nervous shocks.
---